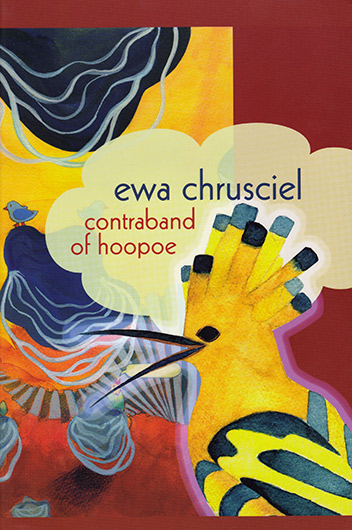 Omnidawn Press
ABOUT
|
REVIEWS
|
BUY
"The excitement one experiences reading the Polish and American poet Ewa Chrusciel's new book is hard to describe. If one made an amalgam of Darwin, early Hejinian, Byzantine art, near Eastern books of wisdom, Ponge, Pavese, sacred Hopi and Amerindian texts, one still wouldn't be able to come up with the magical contraband this vessel is carrying. It is thrilling, wild and salvific. The book is written by an immigrant, and that immigrant is the human being. All is a source of wonder and horror to this species. It is looking everywhere for clues as to what borders are--what they are for, what happens when one breaches them, who does one become when one adopts the mannerisms, the habits, the intelligence of one's hosts. What is the host. In poems seeking safe passage through institutions secular and transcendent, through signals given us by the natural world, by habit, custom, sign, disguise, these urgent works explode onto the American poetic landscape. Authenticity emanates from every word, as well as originality, sassy humor and bracing images, objects, rituals, and queries from cultures in every old world trying to find right translation into this so-called new one. I would listen closely to what the ancient and near-extinct Hoopoe conveys. It really knows something crucial."
— Jorie Graham

"Following up on the strong promise of STRATA, Ewa Chrusciel returns with an impressive new volume that confirms her place as one of the most compelling and intellectually stimulating new poets."
— Kazim Ali
"This is a collection that knows no boundaries—in fact, it is wholly engaged in transgressing them, transforming them, transcending them. And Chrusciel makes ingenious use of birds to do this—the rukh, the hoopoe, and the hummingbird; the parrot, the partridge, and the bird of paradise. She uses the lines they inscribe on the sky to stitch together different ages, different spaces, and different dimensions, creating a marvelous convergence of the mythical and the remembered. She uses smuggling to do this too—a lot of smuggling. "I am crossing the borders with this coiffure of feathers." She definitely has something up her sleeve."
— Cole Swensen

Contraband of Hoopoe is a series of braided poems and prose poems that interrogate the issues of dislocation, immigration and cross-cultural desire. Moving fluidly between the lucid and the ludic, Chrusciel invents a poetics of smuggling as she crosses national, historical and linguistic borders. The migratory narrative is thus distinctly errant, haunted as it is by a childhood lived under a Communist regime, by the austerity of Eastern block politics, and by the possibility of discovering a fleeting language in whose very excesses are carried the seeds of illicit revelation, spiritual transformation and insight. The book also elevates smuggling to a noble activity, recording how the Jewish people were hidden and transported during the Holocaust.
One of the guiding totems of the book is the hoopoe, that bird of exile and return, which King Solomon sent to the Queen of Sheba to convert her to his faith. Under the aegis of this mythical bird, Chrusciel tracks a series of historical objects, undeclared beliefs and secret messages that immigrants throughout history have been sneaking through customs, past border checkpoints, and across the seas. Out of the rollicking oscillation of these themes, Contraband of Hoopoe tells a distinctly postmodern story, woven from the lives of countless immigrants past and present, through the contingencies of a poet who has migrated from Poland to the United States.
Bio:
Ewa Chrusciel has two books in Polish: Furkot and Sopilki and one book in English, Strata, which won the 2009 international book contest and was published with Emergency Press in 2011. Her poems have appeared in many books and magazines in Poland, England, Italy, and the United States, including
Jubilat, Boston Review, Colorado Review, Lana Turner, Spoon River Review, Aufgabe.
She translated Jack London, Joseph Conrad, I.B. Singer as well as some contemporary American poets into Polish. She is an associate professor of humanities at Colby-Sawyer College.
Date of birth: March 9th, 1972
Top
Upcoming
Readings:
October 2014

Tracy Memorial Library
New London, NH
October 1, 2014 | 7 p.m.

Ada Bookstore
Providence, RI
October 4, 2014 | 6 p.m.

Left Bank Bookstore
(with Julie Pütgen)
Hanover, NH
October 7, 2014 | 7 p.m.

McNally Jackson Books
52 Prince Street
New York City
October 9, 2014

Poets House
New York City
October 10, 2014 | 6 p.m.

Anselm College
October 16, 2014 | 7 p.m.

Del Rossi's
73 Brushbrook Rd
Dublin, NH
October 19, 2014 | 3 p.m.

Keene State University
October 22, 2014 | 2 p.m.

Colby-Sawyer College
Archive Room
October 29, 2014 | 4 p.m.


November 2014

Grolier Poetry Book Shop
6 Plympton Street, Harvard Square
Cambridge, MA
November 7, 2014 | 7 p.m.

Massachusetts College of Liberal Arts' Gallery
51 North Adams, MA
November 17, 201 | 7 p.m.
February 2015

Feb 22nd, 2015 | 2 pm
Worcester Public Library, Saxe Room
Worcester County Poetry Association
Worcester, MA


March 2015
March 19th, 2015 | 7-9 pm
Ewa Chrusciel, Tadeusz Pioro, Agnieszka Taborska
McCormack Family Theatre
Brown University
70 Brown Street, Providence, RI

March 25th | 7 pm
Norwich Bookstore
291 Main Street
Norwich, VT
norwichbookstore.com
April 2015

AWP Minnesota
Omnidawn Press Reading
April 9-11, 2015

MIT
Cambridge MA
April 15, 2015 | 8 p.m.

Gala Reading
Illinois State University
April 16,, 2015 | 7 pm
May 2015

Gibson Bookstore
45 S Main Street
Concord, NH
May 20, 2015 | 7 p.m.

October 2015

Poets House, NYC
Omnidawn Press Reading
October 16, 2015


November 2015

Penn State University
Trafika Europe Evening of Slavic Literature
November 18, 2015

December 2015

Water Street Bookstore
45 S Main Street
Exeter, NH
December 9, 2015
Reading with Henry Walters

January 2016

Woodstock Library, VT
January 23, 2016
reading with Carol Westberg

March 2016

Brooklyn Rail
March 24, 2016
reading with Karen Kovacik
June 2016

Kraków
Miłosz Festival
June 16, 2016

The Creative Writing Conference
Dom Literatury, Łódź
June 18, 2016

Biblioteka Norwida
[Norwid's Library]
Zielona Góra
June 19, 2016

SPP
(Association of Polish Poets)
Kraków, Grodzka St. 9
June 30, 2016


October 2016

Marine Poetry Center
San Rafael, CA
October 20, 2016


November 2016

Poet's House
NYC
November 4, 2016

April 2017

St. Johnsbury Athenaeum
April 26, 2017